This week, three of the Radioactive team joined PR tool Propel for a webinar looking at what it takes to succeed as a PR professional in 2023.
It's an especially jangly time for PR right now. The market is in flux, with the recession playing a big part in client intent to spend. Agencies are making difficult choices while still working out how best to service clients in a hybrid working world. Learning and development is all over the shop (one of the reasons I co-founded the High Flyers PR Course).
I (@RichLeighPR) was joined by our head of content strategy Tom Gibbon, who spent more than a decade at Reach PLC (the UK's largest news publisher and owner of more than 60 regional titles) in various senior editor roles, and Liz Hinds, who uses Propel daily, and whose interests, curiosity to learn and other talents make her a great communicator.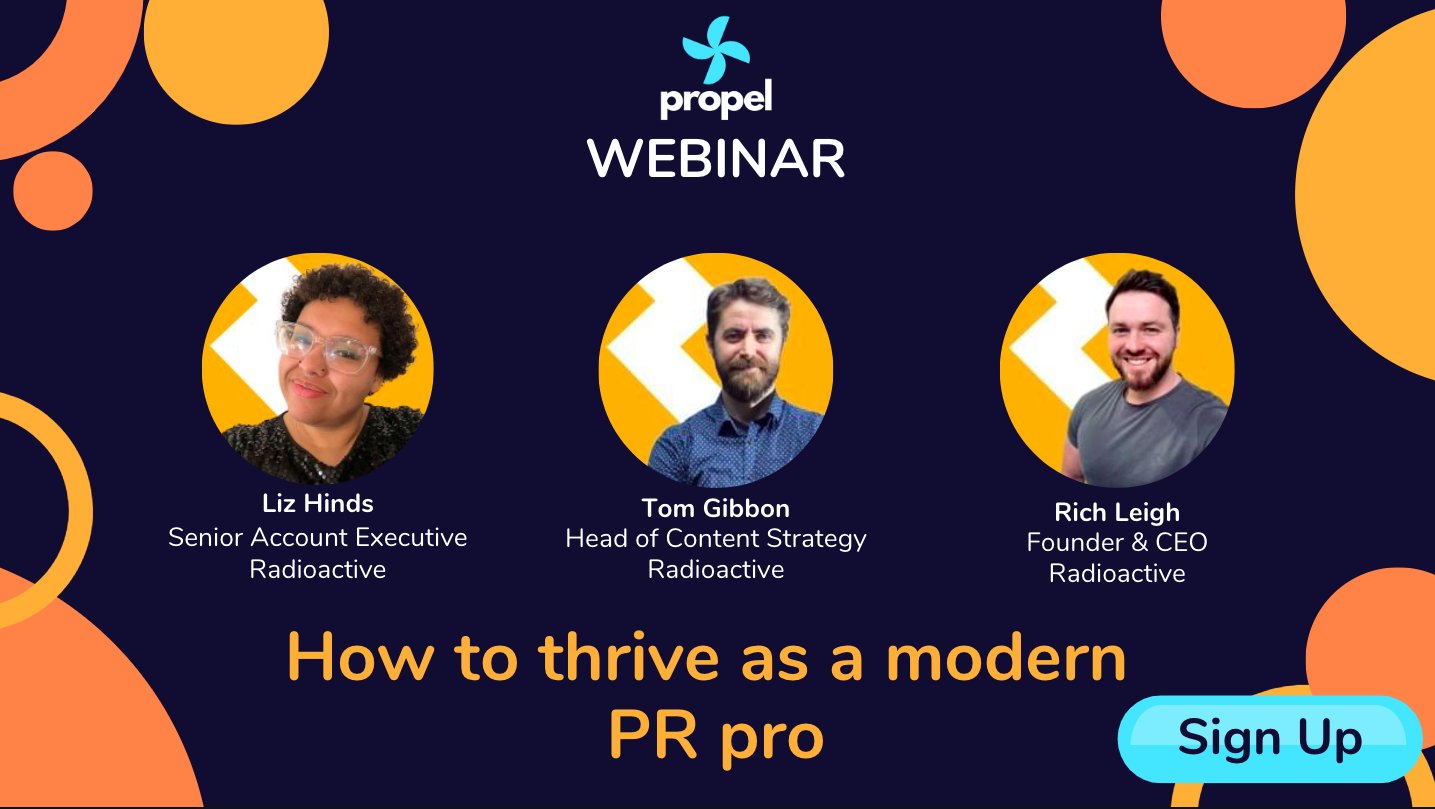 Around 150 people from all around the world (primarily the US, seemingly) signed up for the hour-long webinar, conducted brilliantly by Propel Communications Manager Eitan Goldstein.
There's a cool visual guide looking at everything we spoke about available from Propel for free here, so if you prefer to absorb information that way, follow that link.
Among other things, we talked about:
Ways to best market yourself as an ideal candidate for a modern PR team.
What it means to be an extreme resource to journalists and why it's increasingly important to be on their side in the media relations process.
How to capitalise on new technology built for PR and why you should strategically build up your go-to resource stack.
How to adapt to constant industry innovation, from modern PR stunts to measuring creativity
So, if that sounds like something you'd like to watch or have on in the background while you struggle to untangle the Christmas lights – damn you, last Christmas-you! – here's the video. Enjoy!
Any thoughts, comment, questions or feedback – get in touch on Twitter (links in one of the paragraphs above!) or by emailing us.
I did pull one clip out I thought could be especially interesting to those newer to the industry or just using pitching insights for the first time.
In short: a low response rate isn't necessarily a bad thing. Keep that in mind.
Happy PRing!