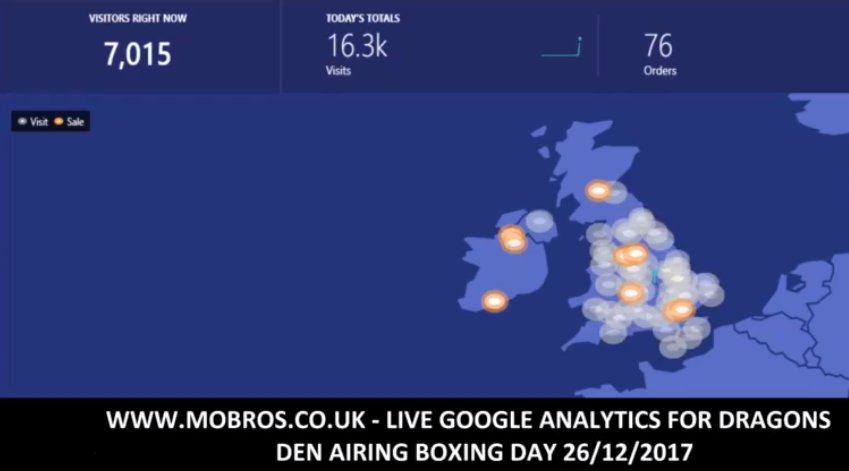 We've been working with male grooming brand Mo Bros for a short while now, and have hit the ground running. Between features in the nationals (the full page Metro and Telegraph being two particularly good ones!), small business pieces and product coverage and competitions in heavy-hitting press, we've a good plan of creative proactive work in the PR timeline.
We worked with them to put together our first big consumer campaign in December, just before they appeared, successfully, on Dragons' Den (take a look at this Facebook Live video to see how the appearance affected their traffic and sales, resulting in 7,500 people on the site at one time, in real-time here!).
How did we reach tens of millions of people, drive tens of thousands of people to the site and convince more than 5,500 people to sign up to one of the most weird and wonderful events of 2017's Christmas period, raising more than £1,000 to combat homelessness in the process?
Two words – beard stroking.
The idea:
Christmas shopping is stressful.
Stroking pets is relaxing (honestly – Oxytocin is released, a hormone that reduces the levels of stress hormone cortisol. It also helps to lower heart rate and blood pressure.)
Pets are a pain to work with, and as Mo Bros' products revolve around hairy-faced gents, we thought we'd have a bit of seasonal fun.
We wanted to create a beard stroking station in a shopping centre for stressed-out shoppers, where members of the public could sit and stroke a beard of their choice for a set period of time. Prices would cost £5 per 5 minutes, and all profits made would be donated to Shelter.
Phase 1: Recruiting bearded men to be the strokees
We created a job page to direct traffic to, asking people to sign up if their beards met our only minimum requirements – that their face fuzz was clean, and longer than 2 inches. We asked for photos.
(On this page, hoping for good direct traffic, Mo Bros also offered a relevant discount and highlighted grooming kits – a big Xmas seller).
Participants were to earn up to £30 per hour, with anything earned on top donated to homelessness charity Shelter – a worthy recipient at this time of the year, and a charity Mo Bros feel closely to, given a 'Behind the Beard' scheme we've been helping them with, helping Leicester's homeless.
Mo Bros, which has a thriving online shop, squared the idea away with Highcross Shopping Centre in Leicester, where they have a kiosk.
We put a release together (asking people to register their interest in being a beard stroker too) and started to tell the world.
It went better than we could even have imagined (more on that in the results section, below!).
Phase 2: the station itself
Beard stroking has kicked off in Leicester this morning with some very happy, and relaxed Christmas shoppers! https://t.co/ogSGqW39mQ pic.twitter.com/81qwM7EEDB

— Radioactive PR (@radioactive_pr) December 20, 2017
On Wednesday the 20th December, the beard stroking station opened for business, with media and public interest from the off.
Guests at the station were able to enjoy a complimentary drinks, listen to relaxing music as they stroked, and make conversation with the gentlemen they are stroking if they choose to. Mo Bros also had beard balms and oils on hand, which the guest could choose to use, to make the stroking experience more pleasurable.
Results
Outputs:
The concept and execution scratched all the right itches, clearly! We achieved:
More than 100 pieces of coverage, including coverage on some great high Domain Authority sites, including the BBC (twice!), the Metro, the Independent (and the Indy 100), the Mail Online, the Mirror, Ladbible, Joe and many others
Dozens of broadcast hits, including BBC News, a radio interview on on Georgie Tonight – an evening show broadcast on ALL 39 BBC local radio stations in England every week night, LBC and many others
12,200 social media shares of the story
Multiple for-social media videos made by publishers, including this one from Unilad – which has had nearly 28 million views – a Radioactive PR agency record!
Outcomes
More than £1,000 raised for Shelter – with the bearded men even donating the money they made throughout the campaign
5,500 people signed up to get their beards stroked, making the job of picking just 6 incredibly difficult!

Put another way… that's 5,500 people with beards that have now heard about and interacted with Mo Bros, providing their email addresses!

100 people registered their interest as strokers, with many turning up on the day to get involved
90+ follow links
More than 20,000 people referred directly to the two pages we created:
A huge increase in traffic for Mo Bros – this graph shows two big spikes, the first this campaign, demonstrating what a tangible and provable boost a great idea done well can have, the second of which was during Mo Bros' appearance on Dragons' Den. They spent 15 minutes on prime-time TV, closed out the show and became one of the biggest investments ever made on the show.
Conclusion
All in all, a memorable way to end 2017 for Mo Bros, a fun and measurable campaign to work up and work on and one very happy client.
How much does working with a PR agency like us cost?
If you're wondering what it'd cost to achieve similar results, just email us, tell us a bit about what you're after and we'll tell you, honestly.
Need further convincing? Take a look through our PR agency blog – we dot case studies throughout!